Resting place of Dayton pioneers
aka "Florence-Kerr" Cemetery
Dayton, Montgomery County, Ohio
Help Save Kerr-Drill is a project of ICU - Inspire, Create, Unite - a Dayton-based non-profit service organziation.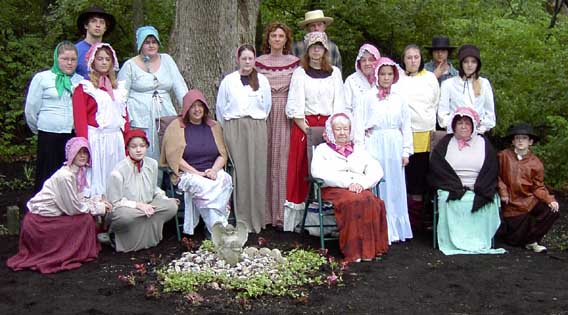 Adult and youth clean-up crew in 1870's costume

This is the story of how a few citizens, working together, can overcome persistent obstacles to achieve something worthwhile - for Dayton's at-risk youth and for preserving and teaching Dayton's Appalachian heritage. It's also about two adjoining forlorn and forgotten cemeteries of about 75 Dayton pioneers, lost to time, indifference, suburban sprawl, and today's fast pace of life.

Harrison Township, Montgomery County, Ohio. 1826 to 1874. The Kerr and Drill families maintain a burial ground on a hilltop in Northridge, (since annexed to the city of Dayton).

In the spring of 2000, 126 years after Sallie Reed was the last person interred in Kerr-Drill Cemetery, three people, separately and without the other's knowledge, contact the City of Dayton about the desecration of an old abandoned cemetery. To our great surprise, the City acknowledges responsibility. The rebirth of Kerr-Drill begins.

This website charts the progress of the grassroots effort to restore the cemetery and assure its future protection. We detail the history of the cemetery and provide glimpses of the people buried there. Hopefully, we'll inspire and advise others to reclaim abandoned cemeteries throughout the Miami Valley.

The story continues. Stay tuned.

Richard Rice and Lisa O'Hearn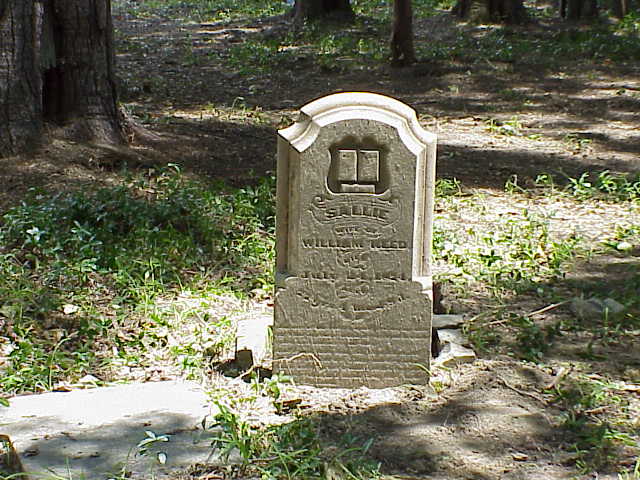 CEMETERY NEWS
Click this link for updates
We are very grateful to the Dayton Daily News for their longstanding interest in our work with this cemetery and it's value to the people of this community.
Please Help!
Hands-on restoration and maintenance of the cemetery is an ongoing project of ICU.

This is truly a grassroots effort. Volunteers - young and old - have been working long and hard to restore 125 to 165 year old grave markers, and cleaning up the cemetery grounds.

The devastating vandalism discovered in early January 2006 is an urgent call to action to secure the cemetery grounds and to inspire the Dayton community to take ownership of this sacred place - home to Dayton's pioneers.

* We need neighbors, churches, veterans and other community groups to help clean-up and look after the cemetery.

* We need the assistance of folks with specialized skills from the University of Dayton, Wright State University, and Wright-Patterson Air Force Base.

* We need help from monument companies and qualified individuals to assure we use proper materials and techniques for restoring an historic cemetery.

* We need caring citizens of Dayton, Ohio to encourage their government to not forget or neglect Kerr-Drill again.

Please contact us:
ICU...Inspire, Create, Unite
617 Patterson Road, Dayton, OH 45419
(937) 546-6005


VANDALS DESECRATE KERR DRILL

BROKEN TOMBSTONES
BREAK HER HEART

Volunteer who worked for years to restore cemetery finds it vandalized

By Joanne Huist Smith
Dayton Daily News, Page 1, January 10, 2006

DAYTON | The head of the dainty concrete angel lay at the statue's feet, surrounded by other broken, smashed or uprooted headstones.

Lisa O'Hearn tried not to cry on Monday each time she discovered new damage to old grave markers in the adjoining Kerr and Drill pioneer cemeteries, but after years of working to restore them, she couldn't hold back the tears.

"I can't imagine what would bring somebody to want to do this," O'Hearn said. "Where is the reverence?"

O'Hearn helped to organize a clean-up of the cemetery after discovering it while doing a title search a few years ago.

"I saw this tiny piece of land marked 'cemetery' on the map and I was curious," she said.

The two cemeteries encompass little more than an acre tucked behind apartment complexes between Frederick Pike and Northcutt Place just off Needmore Road.

About 30 of the cemetery's 50 gravestones had been intact when volunteers last visited in the fall. But now, nearly all the headstones lay scattered and broken. O'Hearn believes several are missing.

"You'd need a sledge hammer to knock some of these down. I think this had to be planned," she said. "It's so discouraging when things like this happen. You just want to give up, but you can't give up."

The cemetery is so hidden by trees that Dayton Police officers said they didn't know it existed. Lt. M. J. Wilhelm said there was no evidence at the scene to indicate who had vandalized the burial ground used from 1835 to 1874.

"I'll put something out to the troops and let them know it's here. Patrolling is about all we can do," he said.

There are a list of early Montgomery County pioneers buried in the two cemeteries including George Drill, who migrated to Ohio from Maryland in a four-horse wagon and a one-horse carriage called a rockaway. Today, you'll find the family name on Drill hill, off Ridge Avenue.

James and Susanna (Lodge) Ensley, also buried there, too have a Dayton street named for them. The family left Bedford County, Penn., for Ohio in 1818 and would eventually own 300 acres in Montgomery County.

The cemetery clean-up had been an ongoing collaborative effort of ICU...Inspire, Create, Unite, a nonprofit organization founded by O'Hearn that brings together Dayton youth, city workers and neighbors.

The adult and teen volunteers raked, planted flowers, picked up garbage and rubbed flour on the headstones, which highlighted the worn lettering. O'Hearn applied for grants and the group made an effort to maintain the property.

"I'm upset because it took a lot of hard work to fix it up. It's shouldn't be trashed," said Christy Adkins, 18, a Belmont High School senior who helped with the task. "There are people resting there after all."

Dick Rice, president of ICU, first found the cemetery, owned by the city of Dayton, about six years ago while researching his family's genealogy.

"It was like walking into a forest. Basically, it had been ignored," he said.

The discovery of the graves of his great-great-great grandparents James and Rebecca Rice was especially meaningful.

"For me, when you find a headstone, it's like connecting with that family," Rice said. "My first ancestor to set foot here (in the Miami Valley) is buried there. I just wanted to tell them you're not lost. You're not alone."

A hickory tree had separated the Rice's headstones, but over the years, the sapling had grown into a giant and closed the gap between the two grave makers. The stones would not yield, so the tree grew up around them.

But, what nature didn't destroy, man did. One side of Rebecca's tombstone is lodged in the hickory tree, the other side was broken off by the vandals.

"Headstones are part of a person's history, part of their past. That's sacred ground. For someone to go in and destroy this stuff is very disheartening," Rice said.

Rice and O'Hearn aren't sure what their next step will be. With no funding and little help available from the city, they're not sure if the grave makers can be repaired.

"If anyone has any suggestions, please call. We need funding. We need volunteers," she said.